believe me when i say ive got something for his punkass
for the first time in her entire long ass holiday

(since 9th june),

soraya was

BORED...

u-huh. i thot that wasnt ever gonna happen, but it plopped its fat ass right on my face. oh, but i only let it stay there for a little while, just for the satisfaction of saying, " yeah, long hols.. got bored once in a while".


why was i bored?.. lets see
1

. ran out of blogs to read


2

. no gigs to go to during the day


3.

no movies at the cinema worth paying for


4

. the gym is so telling me to stay out


5.

fingers still nicely manicured, dont wanna strum nice songs on guitar, cant seem to find stupid pick.


6

. malas nak mandi . haha


7

.thats it i guess


8.

didnt wanna end with 7, dont like the number


9

. k, while im at it might as well go to 9, i like 9.

the hours of the day simply loves soraya. she didnt wake up all that early and before she knew it it was already dark. so yayyy. malam time means cari music time!. hehehe..

tuesday.. mana nak pegi haaaaa??... decided to look thru blogs again to find somethin. hehe, nasib baik ada.. on reza sallehs blog. he was gonna open for madison flynt at the backyard pub. so, yeah duhh. i wentla

reza and band.

madison flynt.. before they played i thot they looked kinda ganas. but guess what they playd? PUNK. well at least i thot it sounded punk. and whats with the ties??.. avril was soo yesterday. hehe.. but their songs are quite okayla. and oh kill me, they played a punk version of
'hit me baby one more time'
more surprises yo.. they decided to abandon the whole punk feel and go for emo boyband song. haha
..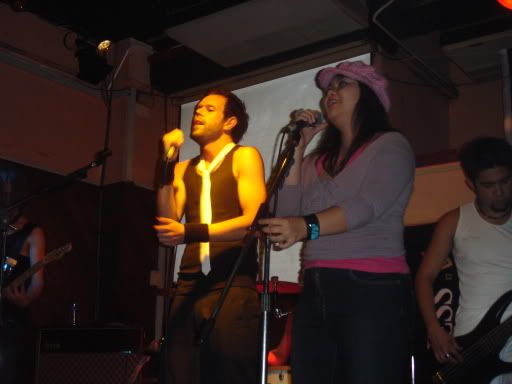 mia palencia and madison flynt.
if you guys are curious, they're playing at laundry tonite for merdeka eve.
yeah, pergila menyambut merdeka with some danish studs. hehe.. i shall opt for a more malaysian n artsy fartsy merdeka. will let you ppl in on that
taaaaa